THE ED(WARD)ITORIAL PAGE
"SHE LOOKS DEAD INSIDE."
Oregano isn't the right flavor for ~some~.
---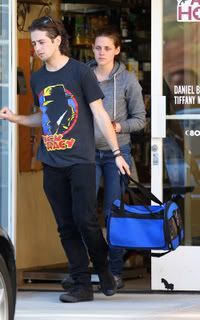 If there's one thing I cannot stand, it's
this
. Here, the word "this" means the insanity
rpattz_kstew
has spawned and validated by existing, despite many efforts by mods to quell the crazy.
Let's explore "this."
Kristen Stewart and her long-time boyfriend Michael Angarano were spotted this afternoon taking her dog to the hospital. To any normal person, this means nothing.
To fans who 100% believe that Robert Pattinson and Kristen Stewart are soulmates who truly belong together and that Angarano is an ugly parasite, this means whatever the hell they can construe it as to back up a secret love affair.
xxlivingx50xx
writes that Kristen and her poor harmless soul "looks 5 different kinds of miserable and she looks dead inside."
But wait! Not only is Kristen depressingly unhappy in her relationship that virtually nobody has any actual insight into, but her fans are convinced they can predict her future.
Really
.
"She'll be smiling soon when she sees Rob again. Maybe she'll realize that means something," writes
highvoltage11
. Gasp!
Maybe
. Or probably not.
shedburn
even calls poor Mikey a parasite. How dare he be out with his girlfriend, you know? Support her while her dog is sick/through a pinnacle in her career? How
dare
he?
The truth is, I'm not upset. I'm just scared. Because underneath the name-calling, the over-involved prophecies for these poor actors' love lives, and the constant comparison between RPattz and Oregano, there is something frightening going on here.
They are being serious. They are emotionally involved in this nonexistent relationship.
But
stewpatty
wants everyone to look on the bright side:
"1. They definitely don't look in love
2. Kristen looks like shit. Not that in itself is a good thing but, she's not holding his hand.
3. They're not kissing.
4. They're not coming out of a party.
6. She looks pissed, like, "I had to freakin' call YOU".
81. MA looks pissy as well."
Oh dear god, that's not a bright side.
Source:
celebrity-gossip.net
;
rpattz_kstew